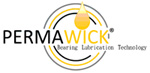 The Permawick

Company invented the revolutionary wicking / reservoir material over 50 years ago, and set the standard for long-life FHP motor lubrication. Permawick reservoir material is ideal for maximizing the use of oil in bearing designs, equal to 99% oil by volume. Using Permawick material is like pouring oil into the bearing reservoir. Permawick has a controlled release rate that meters oil to the bearing as needed. Maximum oil storage plus metered feed rates yields the longest possible bearing service life. Permawick is also the ideal material for re-circulating designs that run 20,000 to 40,000+ hours.

Permawick

gels are manufactured under the trade name PermaGel. PermaGel is ideal for small FHP motors where 5,000 to 10,000 hours meets the application requirement. PermaGel can last in

excess of 30,000 hours

in properly designed end shields. PermaGel is deposited around the bearing and meters oil as needed. Like Permawick, PermaGel does not leak or separate. Unlike Permawick, PermaGel require little reservoir space. PermaGel can streamline bearing design to a minimum, cutting cost. PermaGel is a good backup strategy to guard against dry or partially impregnated bearings. PermaGel applications are quickly finding a place as opposite shaft end ball bearing replacements, where loads are typically only 1/6th that of the loaded end.

Permawick

Bearing Lubricants are formulated for FHP motor use. Our bearing oils use additive packages that contain agents useful for promoting long bearing service life. Oxidation and rust inhibitors, anti-varnish and sludge agents, polarizing agents, load and lubricity agents are all brought to bear in blending the best engineered bearing oils. Permawick bearing lubricants are available in Group I, II and III base stocks, as well as exotics like flourinated stocks for super high performance. Your Permawick representative can help you select the right lubricant for your application.

With over 50 years of experience, the Permawick Company specializes in the reservoir and engineered release of fluids. An acknowledged world leader in the lubrication of bearing systems for electric motors, Permawick now designs fluid release systems for a variety of other markets and products. Our wicking and gel materials can hold fluids and release them when required, for lubrication systems, printing applications, material cutting machines, polishing, surface preparation, flame regulation or countless other fluid dispersion needs. Common uses for Permawick material are replacements for felt, foam, wax or open reservoir systems. Permawick materials can hold more fluid, at greater temperature extremes, without premature leaking, than other reservoir materials.

Permawick mineral and synthetic lubrication oils make up another major product line which compliments our fluid reservoir products. Traditionally used for impregnating bearings, Permawick oils are now used in a variety of markets and application. Let us recommend a Permawick oil for your bearing system or specialized lubrication needs.

The Permawick Company also designs and manufactures a complete line of reservoir injection machines. These machines, called Permajectors, are self contained, semi or fully automatic reservoir material dispensers. Machines are pre tested and shipped tooled for injection of the customers parts.